Choosing the Right Type of Anti-Graffiti Coating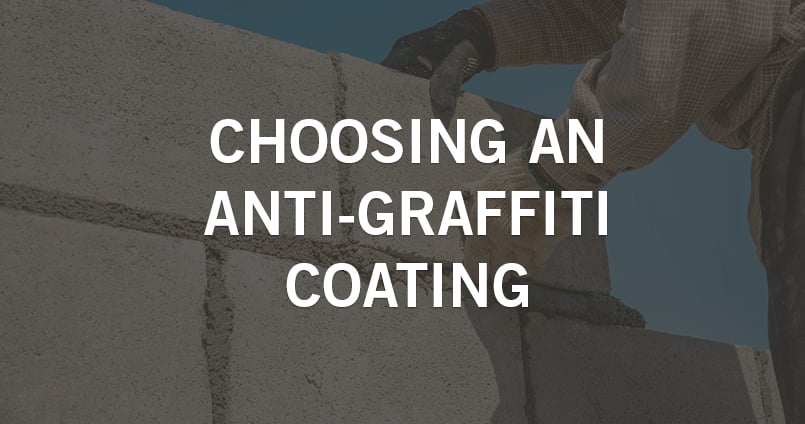 Graffiti is one of the most common and visible forms of vandalism.
It can occur at any time, on public or private property. If a surface is left exposed with no protective coating, graffiti removal can be complicated and expensive. Anti-graffiti coatings are applied to prevent graffiti from bonding to the underlying surface and they are an essential component in securing property against the effects of vandalism. However, there are several products made specifically to protect a variety of wood, masonry, and metal surfaces so that graffiti can be removed in a quick and cost-efficient cleaning process. But with so many types of anti-graffiti coatings out there, how do you know what type is best for your project?
There are two main types of anti-graffiti protection, sacrificial and non-sacrificial coatings.
Sacrificial anti-graffiti coatings are applied and removed after each instance of vandalism, meaning they must be re-applied after each graffiti removal. This type of coating is usually less expensive, but there is the possibility of erosion or damage to the underlying surface that can occur with multiple washings.
Non-sacrificial anti-graffiti coatings will ideally only have to be applied once, as the protective layer is more permanent. Though this type of coating is often more expensive, it allows for easier graffiti removal and lasts for a much longer period of time.
RainGuardPro has anti-graffiti options in both categories to suit a variety of projects:
Sacrificial Graffiti Coating
VandlTop is a great choice for a sacrificial anti-graffiti coating. Unlike some other sacrificial coatings, no harsh chemicals are required for graffiti removal. Just use a low-pressure hot water wash to remove the graffiti. This limits erosion to surfaces that can occur with high-pressure washing or harsh chemicals. Because it is a sacrificial coating, VandlTop will need to be reapplied after each graffiti removal. With an easy, low-cost application that doesn't require any mixing, VandlTop is incredibly efficient choice for surfaces that could be damaged by traditional types of anti-graffiti coatings.
Non-Sacrificial Graffiti Coatings
Blok-Lok with Graffiti Control is a 2-in-1 non-sacrificial option that will seal a multitude of vertical surfaces. It requires a minimum 2 coat application that will not only protect against graffiti, but will also repel water, inhibiting the growth of mold and mildew. Blok-Lok with Graffiti Control is best used on vertical unpainted masonry. It is VOC compliant and goes on clear without yellowing over time. If tagging occurs, graffiti is easily removed with the use of VandlClean Super graffiti cleaner.
VandlGuard Anti-Graffiti Coating is another non-sacrificial coating. It's easy, no-mixing application process can be fully applied within one day. This coating is appropriate for a variety of wood and masonry surfaces and will last up to ten years with repeated graffiti removals. Unlike Blok-Lok with Graffiti Control, it works well on both painted or unpainted surfaces. However, if using VandlGuard Anti-Graffiti Coating on an unpainted surface, one coat of Micro-Seal water repellent will be needed before applying VandlGuard. VandlGuard also will not yellow over time and graffiti will come off easily with the help of VandlClean Super.
VandlGuard 2 Part Urethane Kit is ideal for protecting murals from graffiti and UV damage. This protective coating is available in both a high gloss or matte finish- neither of which will peel, crack, or yellow over time. It can be used on painted or unpainted surfaces treated with Micro-Seal. With a cure time of just 24 hours, it is a valuable asset to time sensitive projects. VandlGuard 2 Part Urethane is water-based and non-toxic and can sustain repeated graffiti removal with VandlClean Super for up to 10 years.
VandlGuard IsoFree™ Aliphatic Urethane 2K is the newest addition to the VandlGuard line up and is the first 2 part aliphatic that becomes isocyanate free when mixed. It can be used on wood, masonry, and metal (non-ferrous metal must be prepped and primed to receive a water based coating), and can sustain repeated graffiti removal for up to 10 years.
These five coatings represent the five different types of anti-graffiti coatings we have to offer. Our full line of anti-graffiti coatings can be found here. Still have questions or want to request a sample? Call us at 888-765-7070, email us at support@rainguardpro.com, or contact your RainguardPro Representative.
---